The Ultimate West Virginia Accident Guide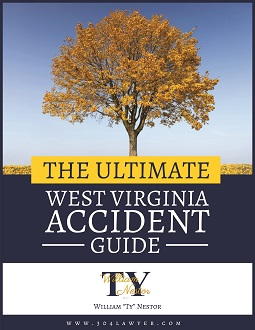 If you were hurt in a car crash, truck wreck, slip and fall, or other personal injury accident, you may be entitled to compensation for medical expenses, property repair or replacement costs, lost wages, pain and suffering, and other losses.
Unfortunately, in order to obtain the compensation you need and deserve, you'll have to make it through the grueling personal injury insurance claims or litigation process and go head-to-head with the insurance company and their savvy corporate counsel. Though a central tenet of insurance advertising is that the company will be there for you when you need them, that's rarely the reality. Fortunately, an experienced West Virginia personal injury attorney can help you protect your right to recovery.
At The Nestor Law Office, we know personal injury law inside and out, and we've helped countless clients successfully resolve their insurance claims or lawsuits. We're not afraid to stand up to an insurance company that isn't treating you fairly.
We Help West Virginia Injury Victims Get Back on Their Feet Again
However, we know that our profession isn't winning any popularity contests, and the idea of hiring a lawyer makes some people uncomfortable. We want to change your perception of us, what we do and, most importantly, what we can do for you. That's why we wrote The Ultimate West Virginia Accident Guide and made it available for free instant download upon request. This guide offers a wide variety of helpful information for accident victims. You can learn:
What to do to protect your rights after an accident
How to avoid case-damaging mistakes that could cost you
Tactics insurance companies use to pay you less than the full value of your claim
Potential damages available in West Virginia personal injury cases
The valuable role lawyers play in enforcing the civil law
How a personal injury attorney can help you with your accident case
Why you can afford a lawyer
The types of cases our firm handles
And more
Request your free download of The Ultimate West Virginia Accident Guide now. Have questions? Want to learn more? Contact The Nestor Law Office today at 304-699-1505 to schedule an appointment for a free initial consultation.
Request Your Free Report Here
We'll email you a link to your complimentary copy of this helpful guide right away!